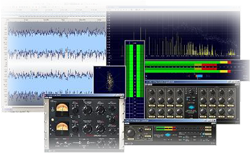 Phu Dong Music Studio Recording
Mastering
What is Mastering?
Mastering, a form of audio post-production, is the process of preparing and transferring recorded audio from a source containing the final mix to a data storage device (the master); the source from which all copies will be produced (via methods such as pressing, duplication or replication). Recently, the format choice includes using digital masters although analog masters, such as audio tapes, are still being used by the manufacturing industry and by a few engineers who have chosen to specialize in analog mastering.
In order to make a deterministic process, mastering requires critical listening; therefore, it cannot be achieved without the presence of a mastering engineer. There are software mastering tools available to facilitate this last step, but results still depend upon the accuracy of speaker monitors. In addition, "music mastering" engineers may also need to apply corrective equalization and dynamic enhancement in order to improve upon sound translation on all playback systems
At Phu Dong Music Studio. We can take your previously mixed audio in whichever format (i.e: analog, digital, stereo) and engineer it for distribution. Feel free to listen to our samples and contact us to discuss your individual needs.